Tokyo Olympics venues 'built with wood from threatened rainforests'
Use of tropical plywood from Malaysia and Indonesia risks destruction of orangutan habitat, say NGOs
The Gardian
Arthur Neslen
Thu 29 Nov 2018 17.36 GMT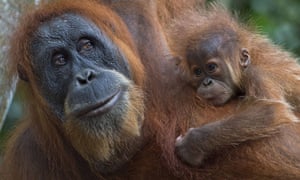 Orangutan populations in East Kalimantan have plunged as deforestation advances. Photograph: Romeo Gacad/AFP/Getty Images
Wood from threatened south-east Asian rainforests has been used to build venues for the Tokyo 2020 Olympics, according to complaints filed with organisers.
At least 134,000 large sheets of tropical plywood from Malaysia and Indonesia have been used as concrete moulds to build stadiums, causing what campaigners say is irreversible harm to precious biodiversity reserves.
Charge sheets seen by the Guardian accuse the authorities of purchasing policies "resulting in the permanent loss of tropical rainforests in Indonesia as well as the destruction of critically endangered orangutan habitat in Borneo".
The allegations focus on the use of 8,700 tropical plywood sheets mostly supplied by the Korean-Indonesian firm Korindo. A report by a group of environmental NGOs this month alleged that the wood was being used to construct the Ariake arena, a planned volleyball venue, despite the lack of credible sustainability certification.
In response to the report, Korindo said it operated in full accordance with Indonesian law, that it did not use illegal wood, and that it acquired the agreement of local communities.
Japan's huge new national stadium may also have been built with the wood, campaigners fear.
Hana Heineken, a spokeswoman for the Rainforest Action Network, which co-filed the complaints, said: "The Tokyo Olympics' use of Korindo wood is a flagrant breach of the commitment by Olympic organisers to host a sustainable Olympic Games in 2020."
The "vast majority" of East Kalimantan forest concessions held by some Korindo suppliers is orangutan habitat, according to the complaint.
Orangutan populations in East Kalimantan have plunged as deforestation advances. An estimated 80% of the apes now live outside protected areas, making them highly vulnerable to logging, plantation and mining operations.
A spokesperson for Tokyo 2020 told the Guardian: "Only timber meeting the sustainability criteria specified in our sustainable sourcing code is used in construction work for the Tokyo 2020 Games."
Organisers were currently in discussions to review the standard with businesses, NGOs and certification scheme owners, the official added.
The committee's code requires contractors to "strive" to avoid illegally logged timber, and to ensure nature conservation. But plywood suppliers do not currently have to ensure full traceability of their timber, even if it comes from deforestation hotspots. Requirements to protect forests of high conservation value or carbon stock are also absent.
Heineken said: "The current policy is unacceptably weak and efforts to strengthen it are welcome. But the current proposals up for revision fail to address the inherent problems in Japan's consumption of tropical plywood, which is driving deforestation in Indonesia and Malaysia."
Globally, tropical forests covering an area the size of Bangladesh – 158,000 square km – disappeared last year, the second highest rate of deforestation since 2001.